Made in SA is a collection of new piano pieces written for beginning-to-intermediate students by members of the Composers Alliance of San Antonio (CASA). There will be four graded volumes, each edited by Dr. Carolyn True and engraved by Dr. Brian Bondari, both professors of Music at Trinity University.
The complete set will be ready for distribution by June 15, 2015. See a brochure previewing the upcoming release: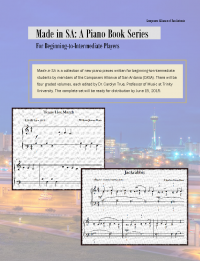 As a preview, CASA hosted a recital on January 25, 2015 of twenty-two individual piano works, all performed by young San Antonio pianists. See the full program (PDF).